I was just wondering if any of you guys have had dreams that involved Dark Souls in some manner- be it actually in Lordran or just dealing with one of the Dark Souls characters.
I had an utter dozy this morning involving Dark Souls;
It started out the usual dream; just doing your everyday thing in town then suddenly the Reapers invaded planet Earth and started killing and harvesting everyone. (If you don't know what Reapers are, they're from the game Mass Effect;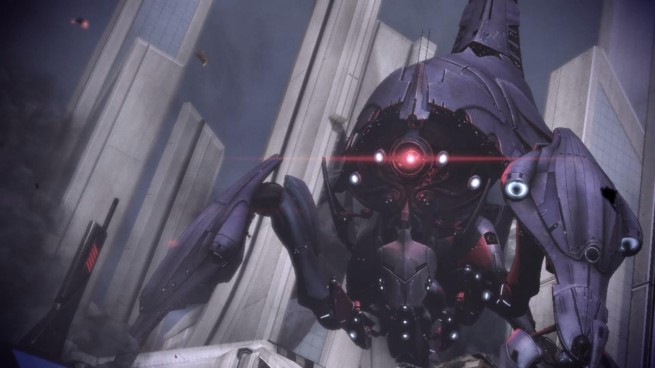 So naturally everyone started to panic; the human flock somehow ended up in a massive abandoned prison when the Reapers started landing then Seath the Scaleless flew over head and landed on the prison roof.
I then marched up and shouted at him, yelling about how we have unfinished business. I actually yelled that in Japanese- it was the line from Kill Bill Vol 1 when the Bride calls out O-Ren, so I literally yelled "O-Ren Ishi! You and I have unfinished business!" at him.
For some weirdass reason Seath responded to that and jumped down from the prison so he was in front of me- he was around human sized at this point. We started yelling at each other in Japanese for some reason; I don't know any Japanese so there were subtitles floating around. Eventually we proposed to duel each other- If I won he would leave us alone for two weeks and if he won he could kill us.
By now the Reapers and other humans/aliens had made a rough circle so Seath and I then attacked each other; by then he grew up to his normal size and I had Gwyn's flaming sword for some reason. It basically looked like the normal brawl against Seath you see in Dark Souls. I won the fight after leaping on the back of his neck and threatening to cut his head off when he was doing that Crystal Breath attack from side-to-side.
Seath then basically threw a tantrum- this time in English though- before flying off, followed by the Reapers, leaving us humans to our own devices.
It kinda skipped around, with us harvesting the prison grounds, making a night club (lol priorities). The Illusive Man from Mass Effect was also there (he's basically the head of an anti-alien terrorist group called Cerberus) who I swore at a lot throughtout the dream. He started stirring up crap, so I convinced the aliens and few humans to buy Cerberus Stock which put him out of business. Why a black-op terrorist group would have buyable stocks I dunno.
So with that dealt with I went outside and started telling everyone we didn't need gold anymore-since for some reason I was the leader and we only had gold coins as money- and to start harvesting more food. That was then I got a message relieved to me through the jumbo-screen on the outside prison wall from Seath who apparently wanted to me come over and have tea with him.
I agreed and basically teleported over to his place and we ended up having a tea party in Crystal Cave- like one those 5 year olds have, with the mini-tea pot and really little teacups and fancy cupcakes which was even more hilarious due to the fact Seath was his normal, gigantic size and I was human-sized. So we just ate for a bit before Seath started talking about how he has a massive library but he has too small books so he can't read anything and he's blind anyway so it doesn't matter. Thankfully this was in English so I didn't need subtitles lol
Then it kinda got weird when Seath asked if I wanted to have children with him since I possessed a powerful soul and I told him off for getting fresh with me and trying to get to fourth base on the first date.
I then woke up due to my alarm going off. So yeah, I had a really, really weird Dark Souls dream. I think I need a break from it lol or at least stop sneaking chocolate before I go to bed as that apparently gives you weird dreams.
So what about you guys? Got any weird dreams that involve Dark Souls in some way?