Sup guys.
So, everyone is aware of the D&D type alignment compass, right? Well, here's something fun we can do: where do you stand on the moral compass?
For the sake of realism, and the fact that I can't really say anyone here is truly "evil" or "good" per se, good shall mean respecting others, evil shall mean disregarding others, lawful shall mean law-abiding, and chaotic shall mean free-spirited.
Let's hear ya guys. Where do you stand on the alignment compass?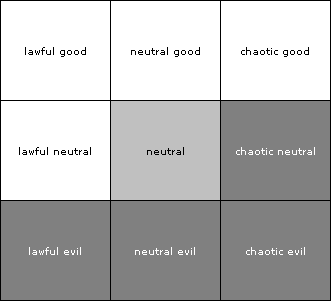 Personally, I would view myself as true neutral. I really, really just don't give a ****, and my opinions sway between every direction.

Last edited by BindMind on Mon Jun 18, 2012 2:49 am; edited 2 times in total