For anyone not already familiar the upcoming PS3/Vita side-scrolling, beat'em-up action RPG Dragon's Crown (think legends of mana meets powerstones), you may want to take a look. I have been following this game for quite some time now, as I'm sure have many others who are fans of VanillaWare titles such as Odin's Sphere and Muramasa.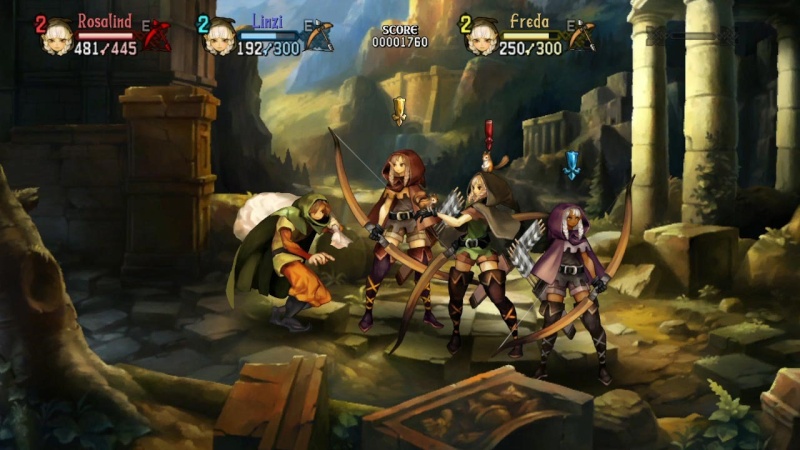 Not much has been revealed on this IP since the game was announced in 2011, aside from delays and a brief gameplay video depicting some playable classes, but at this years E3, a lot of journalist's were able to get their hands on the playable demo, and most were impressed with the mechanics, depth, and superb artistic style.
This video is of Gametrailer's Patrick Morales and Justin Speer as they break-down their experience with the demo, accompanied with some impressive gameplay footage:
http://www.gametrailers.com/videos/yqutsx/dragon-s-crown-e3-2013--field-report
So far, Atlus and VanillaWare have revealed a lot of interesting facts about game elements, some of which i'll highlight below, but you may want to watch the E3 gameplay stage demo with Atlus for yourself if you have not already done so, as the graphics and art style are downright gorgeous: 
1. Six different classes to choose from: Fighter, Dwarf, Elf, Wizard, Amazon, and Sorceress.
2. Each class has its own style of play with unique abilities, and backstory.
3. The game features in-depth RPG elements (character leveling, treasure hunting, guild sidequests, semi non-linear progression) 
4. unique rank-based experience gaining system. If you have played Odin's Sphere, it is somewhat similar, but this empasizes paying out higher rewards the more skillful you play, and there are many different kinds of bonuses to unlock for achievements.            
4. You can connect with up to 3 different people in co-op multiplayer. (4 player total)
5. Multiple playthroughs with increasing difficulties and availability of rare loot!
6. Does not support PS3/Vita crossplay, but allows transfer on-the-go, so long as you have a copy of the game for both systems..
.. ohwell.
7. Story takes roughly 15 hrs to complete, but when combined with sidequests, subsequent newgame +'s, and multiplayer co-op/pvp will take however long the player wants it to. 
** I realized the PVP arena is not confirmed by the devs, so I've revised this to include that aspect under speculation. Destructiod.com article states this feature here:
http://www.destructoid.com/i-m-down-with-dragon-s-crown-256291.phtml
Quote:
"In terms of replayability, you can dig deeper into dungeons on repeated playthroughs, play at increased difficulty modes, and access an end-game randomly-generated dungeon to level up your characters and acquire exceedingly rare treasure. There will also be a player-versus-player arena to test your characters against those of your friends."
I pray this is implemented in the game and will await official word, but should not be considered official
This game is ps3/vita exclusive set to release Agust 6th, for those not aware, and from how this game is comming together finally after its delays/uncertain future and high expectations, it is going to be a nice little distraction until DaS 2.
Open discussion if anyone has any thoughts, new info, objections. I for one am looking forward to playing as the fighter/tank. Hopefully it turns out great
Last edited by phastings on Thu Jun 27, 2013 8:15 pm; edited 2 times in total