OUYA Console
Hollowed





Posts

: 1721


Reputation

: 52


Join date

: 2012-07-30

Anyone know anything about this?  Seems doomed to failure but very interesting!

_________________
XBox Gamertag: VI Mark IV
PSN: VI_Mark_IV
Duke's Archivist





Posts

: 11501


Reputation

: 327


Join date

: 2012-04-18


Age

: 28


Location

: WPB, Florida

Sounds like it's more of a casual machine built maximal utility. Probably not for me but an interesting project to be sure. Will be looking to hear more.
Hollowed





Posts

: 1721


Reputation

: 52


Join date

: 2012-07-30

The open source is interesting; I always am looking for a good game off the beaten path.  Mainly on the system and not the polish.  A robot can be represented by a circle and still have good mechanics in my opinion.

_________________
XBox Gamertag: VI Mark IV
PSN: VI_Mark_IV
Chat Moderator




Posts

: 10236


Reputation

: 410


Join date

: 2012-01-27


Location

: Ralph Wilson Stadium

Should have a lot of android support early but a lot will depend on the ease of transferring input. Most Android games are meant to maximize a touchscreen. Controls might be ugly but who knows. Nintendo is also demonstrating what a lack of horsepower for a home console can do. Ouya is probably beefy for Android but can it handle more?


 Edit: I forgot to mention that they could bolster their console dramatically with a good streaming partner. I have an onlive account because they gave away Lego Batman with it (wii version I think). It runs reasonably well on my smart phone. I wouldn't be tempted to really play the game thanks to lag in movement input (everything else is responsive) but I'm thinking either a better internet connection or more power on my phone would be pretty nice actually. A tablet might be able to do it well. Getting that good enough to beat the giants will be a chore since ps4 is already saying they'd like the entire ps library streaming eventually. If they're serious......
Lordvessel





Posts

: 8742


Reputation

: 221


Join date

: 2012-02-16


Age

: 30


Location

: The Painted World

Xbox shaped controller is a huge turn off for me, as a sony fanboy.
_________________
PSN: WyrmHero1945
Dedicated Blade of the Darkmoon.
Chaos Legion
Str weapons covenant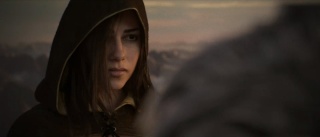 Hollowed





Posts

: 1999


Reputation

: 40


Join date

: 2012-12-29


Location

: The nether regions

A bit of information on the Ouya: the Ouya is Android based, but it's designed with high end gaming in mind(maybe not on current or next gen specs but close). Part of the development process around the Ouya revolved around finding developers interested in porting their old (Android) games or writing new games for the Ouya and specifically its controller. Everything they've done has made it easier for developers to make games that aren't touchscreen reliant, so you won't be getting games limited by what a mobile phone can do.

I believe the Ouya has the capability to be a good console. It won't be AAA but it'll be a good console nonetheless.
_________________
George Takei:

Here's a little Internet tip: If you feel offended by something someone else posts, remember two simple rules:

1) It's not about you.
2) If you try to make it about you, you'll sound ridiculous.

Steve Jobs:

Almost everything--all external expectations, all pride, all fear of embarrassment or failure--these things just fall away in the face of death, leaving only what is truly important. Remembering that you are going to die is the best way I know to avoid the trap of thinking you have something to lose. You are already naked. There is no reason not to follow your heart.

Addicted





Posts

: 263


Reputation

: 9


Join date

: 2012-09-09


Age

: 23


Location

: England

_________________
XBLG - DesertFoX 797