I was talking with my lady about bossfights in Dark Souls and decided to make something of a short review of each of the bosses.
Spoiler:
---
Taurus Demon
I don't know about you, but I freaked out when Taurus jumped in front of me and two arrows stabbed me in my back. While you can cheese Taurus by repeatedly doing the plunging attack from the tower, fighting him directly is much more challenging and at this point, many players will still think that using their shield against a weapon of this size is pointless. Very good opening bossfight, that takes a giant hammer in your face.
---
Belfry Gargoyles
Undead Parish is a great location, with lot of interesting enemies and Gargoyles are a cherry on top of a delicious cake here.
After quite intimidating cutscene, you're welcomed with quite normal fight, which takes turn to worse when the second Gargoyle shows up. Demon's Souls players, like me, must've had a flashback of all their deaths to Maneaters and expected to meet the same fate here. However the second Gargoyle has only half of it's max HP and has lower defences and only spams it's fire breath, so it's more of an annoyance than a threat. Ability to summon Solaire and optionaly Lautrec makes this fight a breeze.
---
Capra Demon
Spoiler:
This is a first bossfight that troubled me. Not because Capra promptly welcomes you with one of his strongest attacks, effectively insta killing you. But he's not the real problem there. It's the dogs. They're the real boss in this case, Capra is just a hindrance that makes killing the dogs harder.
This fight is quite out of place for me. I don't understand why the hell Capra has the key to The Depths, nor why is he in that tiny room waiting for the player. Did he went out with his dogs and got trapped there, or what?! There's no real reason to fight it, only to get a key. This is some seriously bad game designing.
---
Gaping Dragon
After the ardorous journey through The Depths with getting lost a few times on the way, seeing a boss is actually quite pleasant, because you know you can get out of this place as soon as you kill it. At first, it seems impossible, because Gaping Dragon has so much HP, but he's slow and his attacks aren't much of a threat. Only hard moment is when it starts to fly, you don't expect it to start flying, not to mention trying to land on you and smash you. Breaking your equipment is a nice addition to the fight. Summoning Solaire and Lautrec makes this fight very easy, but those two have a talent when it comes to dying to Gapings attacks.
I would like if Domhall could inform the player that the door to Blighttown is locked and Gaping ate the guy who had the key. It's stupid, but it's something. If I wanted to open a gate, I wouldn't look for the key in dragons stomach, but kicked the *** of the guy sitting next to the gate...
---
Chaos Witch Quelaag
Quelaag is hot. In more than one way...
Spoiler:
I thought The Depths were hell, but then From came, laughed in my face and gave me Blighttown. It's not as bad as Valley of Defilement 5-2, but it's still a pain to go through. Quelaag isn't a hard boss, but her attacks can suprise and the ponds of lava can make the fight very difficult if you don't watch your step. Overall it's a fun fight and a good boss to get summoned to farm some Souls and Humanity.
---
Pinwheel
Spoiler:
When I first fought Pinwheel and noticed him making copies of himself, I immediately thought about Fool's Idol and expected traps to be placed in the arena, or that Pinwheel will resurrect itself unless I return and kill all the necromancers. His ridiculously low HP made me think that there will be a catch to this fight even more.
Nope...
He just died, dropped one of it's ugly masks and that's it. Super dissapointed.
---
Moonlight Butterfly
This is a very easy boss if you have any means of ranged attacks. If you don't and also lack skills to evade its attacks, or a shield with good Magic Resistance, the fight will be a lot harder. Once you see it sit down, you know what to do and how to approach the fight.
I was a mid rolling tank when I first arrived here, so I got promptly pwned.
I wonder why it shares it's BGM with Gwyndolin...
---
Iron Golem
Sen's Fortress is one of the best places in video game history, although the traps could be more elaborate and there could be more types of them, but let's not be too picky. Getting through there was very frustrating, but also a lot of fun. The fact that you can see Iron Golem being clearly visible to the player even before entering the fog creates a lot of anxiety for the fight. Pure melee characters must've had one hell of a time with him if they didn't summon any help. Thankfuly Takrus makes this fight a breeze, because he can take the boss on by himself. The area you fight at is actually more deadly than the boss itself.
I don't know why From did it, but they removed the obvious staircase that Iron Golem was guarding and put a wall in it's place (you can still see it from the top of belltower in Parish). Thanks to this, player has to travel to Anor Londo with the help of Batwing Demons that will take the player there once he/she touches the gold ring that appears after you kill the boss.
What the hell is this nonesense is beyond me. Why remove the freaking stairs? It would be much more believable and epic (if done right) than this stupidy. Why are the demons bothering with you? What the hell is that ring? Seriously From, there better not be this sh*t in next Souls game. You can do better and we all know it.
---
Ornstein & Smough
Also known as Pikachu & Snorlax, Laurel & Hardy, Lagstein & Plough.
These cheeky ganker bastards and the amount of horsedung they put you through...
Solaire isn't much help, nor are the super frequent invasions.
The fight itself is quite epic and hard, which is very, very good. It really makes people feel satisfied after they defeat these two and then the Super Sayian version of one of them. The reward is really large, although you can't quite put your hands on it.
Ornstein's laggy haxxor behavior is almost legendary and I hope From will not have anything like this in the next game, because it just screams lazy AI programming.
---
Great Grey Wolf Sif
I never liked killing animals in video games and it's like From knew and added Sif the limping movement when he has low HP. When I reached that point, I actually stood there, going away from Sif in circles for a whole of ten minutes, while trying to google a way to spare him.
I'd prefer if they added this much detail to other stuff that require it much more than Sif.
Painful fight, not only physicaly but emotionaly as well, but I must say that witht the release of the DLC it's quite pointless. Why can't we simply get the Covenant of Artorias from Arty himself, or from young Sif when we meet them in Oolacile? Since Arty protected Sif with his shield and not with the said ring, it makes even less sense for the ring to even exist and for it to be in Sif's possesion (did he eat it, or something?).
---
Ceaseless Discharge
That moment when you know that you're f*cked. Without cheesing Ceaseless to make him suicide jump at you, the fight is pretty hard for inexperienced players, to the point of being almost unfair, becuase as soon as they learned that they can block anything, Ceaseless comes and proves them wrong. Only thing I hate about this fight is Ceaseless disregard for the surroundings and the area. He doesn't give a damn about the walls, nor about the small part of the map where you can hide from him, he just attacks through everything. I don't understand why is there that place where you can hide, if all of his attacks totally ignore the wall between you two, yet leave the wall undamaged.
Spoiler:
---
Demon Firesage
Why is there another version of Asylum Demon and why is it's butt on fire? The only difference is the AoE attack that many players already saw from Stray Demon. Why is he even there? I could understand if the shortcut to Lost Izalith was behind his arena, but it's in front of his fog, thus you can completely ignore him. Not to mention there's another boss like ten meters behind this one. Utterly pointless boss whatsoever.
---
Centipede Demon
Another quite annoying fight, but the addition of lava and being able to cut off it's hand and tail are great. Too bad Solaire is once again useless. The erratic camera movement and the unimaginable things it does one you lock on the boss are one of the most basic errors when it comes to programming camera movement. They don't make the fight any easier either. It was released in 2012, developers should be able to eradicate all camera problems while blindfolded by now.
---
Bed of Chaos
Who hates this boss, raise your hand please.
Dragon God was boring, but it was heaven compared to this. Honestly, if the goddamn floor didn't fall apart, it would be a lot less annoying to fight it. But it's well known that this particular boss had to be cut short and this is the result when you can't make the deadline...
I am utterly dissapointed by this boss and the fact that it's supposed to be one of the legendary Four Lords. I expected a LOT more from the Witch of Izalith, especially after Quelaag.
---
Four Kings
So you think these guys are hard? Try imagining them with separate HP bars.
Still, very interesting fight and unless you're a master of evading, or can't tank their hits, it will be one of the hardests fights for you. Design wise it's very good and the time limit for the other Kings to appear makes it fresh. Really makes a good name to the Four Lords, unlike some of the other Lords.
---
Seath the Scaleless
This is a suprisingly easy fight. Only if you want to cut his tail it can get a bit hard, because Seath doesn't give a damn about walls and likes to hide his whole tail inside of them and start moving with it in attempts to kill you.
Spoiler:
It's a shame we can't use the lack of his eyesight against him, like we could with Old Hero, or that destroying the Primordial Crystal is so easy. Seath should've protected it somehow, with some strong mob, or with some sort of spell, or something. This way the fight is too simple and Seaths low HP (for a dragon) doesn't help it. His attacks are slow, weak and easily evaded. Considering that Seath is one of the Four Lords, it's actually quite the shame this fight isn't better.
---
Gravelord Nito
I also expected a lot from Nito, but was quite sceptical after fighting Pinwheel. It seems that both of these have pretty difficult mobs and areas in general, but fighting them is easy. While Nito does Toxin and has skeletons as backup, at this point of the game, it's nothing to worry about. To make matters worse, Nito himself is very slow, his attacks are weak and can be blocked with no problems whatsoever. With a divine weapon, his skeletons will stop reasembling and the fight turns into something very pathetic. This isn't how I imagined one of the Four Lords and the embodiment of death in Lordran.
---
Stray Demon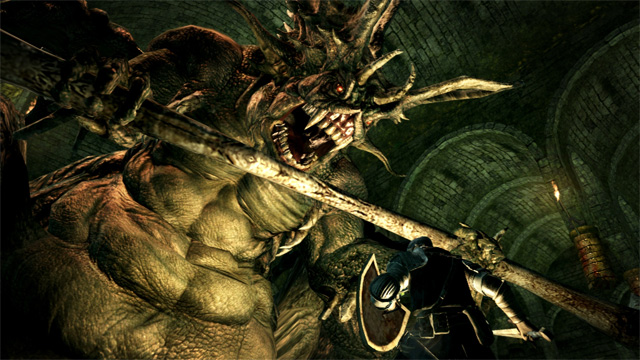 This is one of the best fights in the game, that breaks your emotional reunion with the place where you started your journey through Lordran. Even though From is a recycling Asylum Demon in here, the fight is very good, because this is the same demon you can see through iron bars, walking in some pit as soon as you exit your cell in Undead Asylum. Now you get to fight it and in very suprising way. No fog gate, or anything. Thanks to it being fully optional, the fight can be very easy, or very hard. I had the pleasure of fighting it while being SL 25 with a +5 Longsword.
---
Crossbreed Priscilla
I never liked fighting Priscilla, because she's not hostile towards the player after you enter the fog and instead asks you to leave peacefuly, which you really can (it really suprised me). Whole Ariamis is very interesting and fun to play area. Considering how small it is, it's really packed with things to do and explore. Since I never took Priscilla for a real boss, the fight with her is perfectly fitting her. She turns invisible, which makes the fight very fresh, although you can track her whereabouts by her footprints in the snow, which is a nice detail, really. The fight is easy, unless you want to cut off her tail, not only it is small, but she's invisible to boot and moves around a lot.
Spoiler:
---
Dark Sun Gwyndolin
Another original fight, albeit being quite boring and also easy once you figure out how to react to each of Gwyndolins only three attacks.
I still don't understand why I can deal damage to Gwyndolin after he completely teleports himself away, nor why I can damage him when he performs the teleportation, while Chanellers are invulnerable as soon as they start casting it.
---
Sanctuary Guardian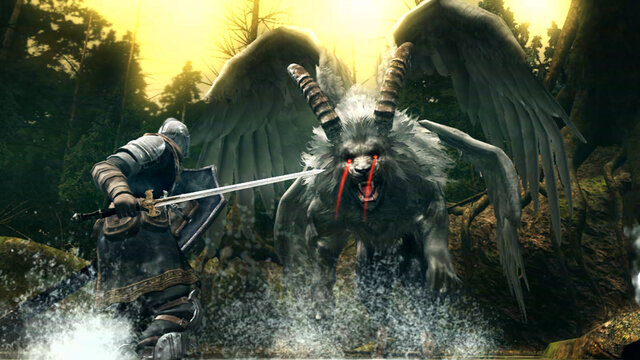 I had no idea what to expect from the DLC bosses and in the end I was very pleasantly suprised by their difficulty. Sanctuary Guardian opens the fight with very intimidating roar and rushes straight at the player. It switches between being really aggresive and lightning spam. After you defeat it, there's two of them on the same spot. Although these are not bosses, nor they drop anything it's a good challenge.
It's a shame that From had to cut content even from the DLC, so I guess we'll never get to use Guardian's Soul for anything.
---
Artorias of the Abyss
Exploring Royal Wood took me a good two hours when I first got there. Even though I had my trusty SL 127, I got crushed by Stone Guardians a few times. I really like them, they have really high defences, so you can't just hack&slash them, nor backstab them like most of the enemies on the game.
In the spotlight of the DLC stands one of the most epic bosses in RPG history. The fight is pretty difficult even with phantoms and Arty likes to ignore other players and go slaughter the host in matter of seconds. After few deaths to Arty, I decided to go fight him like a man. I took a Claymore, removed shield and spells and went head to head with him.
---
Black Dragon Kalameet
This fight reminds me a lot of the Monster Hunter series and is equaly as good and hard. Kalameet has huge HP pool and high resistances to every damage type, making fighting him very enjoyable and lenghty even on high SL. I still like to co-op fight him, but I rarely get summoned for him these days.
Ever since Kalameet burned me to a crisp when I entered his arena, I wanted to try and shoot him down myself. Finally, on NG+3, I took Gough's Greatbow and managed to kill Kalameet without Gough's asistance (altough I did use his bow
).
---
Manus Father of the Abyss
Manus provides the player with another good and challenging fight, especially once he starts using his spells, where one mistake can spell instant death. I really dislike how Mnaus starts lagging when you co-op and changes the direction of his attacks midway. It's still nothing compared to what Ornstein does sometimes.
I still don't understand why Manus kidnapped Dusk, nor what he wants with the Old Pendant.
Pendants in this game...
---
Gwyn Lord of Cinder
The final boss was a bit dissapointing. While he has strong attacks and is relentless in his attempt to kill the player, he's actually easy to parry and it's the only method to his defeat for some builds. It's a real shame. If you bring phantoms with you, Gwyn will have hard time fighting superior numbers and die to your combined might very quickly.
On the other hand Gwyn did gave up his powers and that made him weaker, so perhaps his state is as it should be, yet I feel the fight should be harder. He used to be the Lord of Sunlight after all.