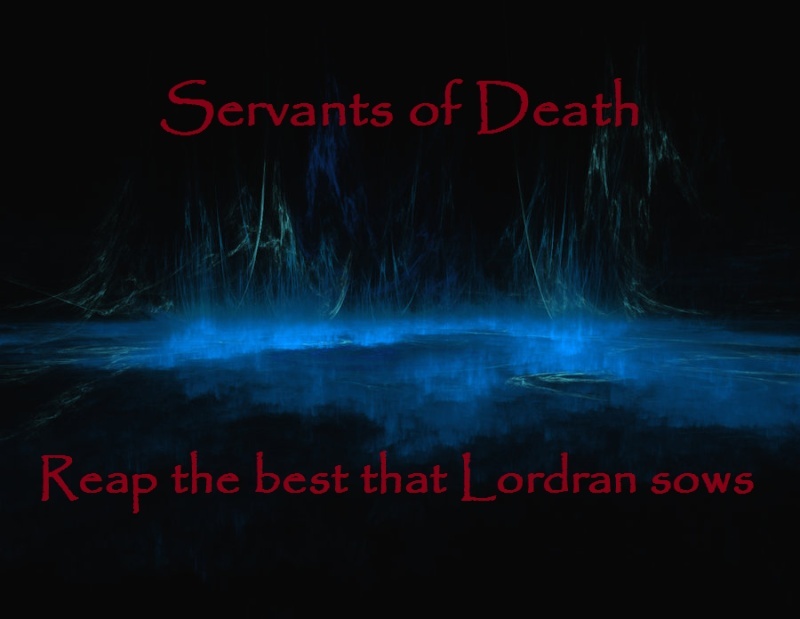 Since the first flame was kindled to bring life to this souless land we call Lordran,
Death has existed, we, have existed.
It was Nito who first held the power of the Miasma of Death,
a power, we now hold in our very grasp.
He unleashed it upon the everlasting dragons, stripping them of their cruel power,
and helping to rid the Lordran of the Dragon menace.
After this victory, Nito lay in seclusion in his mighty tomb. Hidden, from the world,
until we found him. Our division of the Darkwraiths.
Sent on the most glorious of missions, the defeat of the Gravelord himself.
Score's of ours fell before his mighty power. Until, all that was left, was I.
Then, the unexpected happened, Gravelord Nito proferred his hands.
In one, the glowing aura of his Miasma, in the other, his blade. The deathly whisper;
"Choose"
He had offered us, me, a second chance, to serve him in death. The miasma was irresistable, and I took it in an instant.
You wonder today, Gravelord Nito, spared our souls, so that we could serve,
Why is he still our enemy?
Because he is corrupted, he has lost his way.
His duty was to send us to the grave, yet we live. And we live strong.
He has corrupted other's, but we still see the way, we still believe in our cause, we hold fast to our duty and that, that is what sets us apart.
We now collect the powerful souls who are willing to meet our challenge in a battle of honour. So that one day, we might come back, stronger for the mightiest soul of all.
We serve death.
Lordran sows and we reap, as is our duty. As will always be, our duty.
I am the Keeper of our house.
Welcome to the family.
Dress code: Whatever you envision death to be. (No, I will not accept Flipping Havel dad's) I myself am going for Dark Mask, Armour of thorns, Havel's gauntlets and Catarina leg's. You can probably get a few ideas from this. Main point: Be creative!
Group Identification: If you have no trouble's using it, our badge of honour is the Bonewheel Shield. If you're build is not right for it i.e. dex build, then just pull it out to show your colours. This will be requested if you are approached at PvP range and make the "Down" Gesture. You may also request this of other users, but if it is not set up, don't blame me for getting backstabbed
This gesture is our primary form of recognition, the confirming badge being the Shield. If you do not have this shield, I recommend you aquire one before the next covenant meet. If you do not have one yet, I will most likely have a few to spare.
Weapons: Ultimately, you can use whatever you want, but for maximum "Death" theme go for weapons such as the gravelord sword, dark silver tracer, scythe, abyss greatsword etc. Whatever looks most evil to you. Acid Surge is also a pretty major part of the lore. See below in "Ranks".
Ranks: I am The Keeper of the House of Death. When enough members are garnered we will host a battle royale elimination to find our "Death" among us. The first recruit rank will be Death's Thrall, next is Death's Disciple, then Death's Whispers then Death's Fingers. When members reach the rank of Death's Whispers, a pilgrimage will be made to the Painted World of Ariamis, to retrieve the Miasma of Death, and to grant my "Permission" for it's use. This is a major part of our covenant. Praise will be given to those who throw it around in covenant events (As long as you have reached the appropriate rank) Forenote: The title "Death" does not grant you amnesty from betrayal and rules, you will still be punished like everyone else which may involve stripping of your rank. Nor does it automatically accelerate you to the highest rank, it is merely a display of battle prowess.
Soul Level and platforms: The Soul Level range for covenant events will be SL'S 50-55. This allows us to keep up with Forum events. The platform I am starting this on is Xbox 360, however, if someone is willing to be a pioneer for the other platforms, I am more than happy to include you among our divisions. You only need to Private Message me to do this.
Events: Every so often (which will be decided as a covenant) there will be a reaping in which we will universally put our RSS's down in a show of force for our reapings. Challenges may also be made to fight for the title of "Death".
PvP: When your freelancing as your Death character, in a covenant event or just representing with the BoneWheel Shield, Red Sign Soapstone is our only form of invasion, were not Darkwraiths here, nor are we DMB lackeys. Being a Gravelord is fine, (after all, we still work for the guy).
That about raps it up. We are very lore based and cosplay isa good part of it. Decisions such as change in events etc. will be made as a whole. You only have to ask me and I will put it to the poll's.
I hope this interests many of you and I see you out there fellow Reaper's of the Peace.
Covenant members:
Dutchy XBL:Dutchy47- Keeper of the House of Death
RPX XBL: RandomPArK - Death's Disciple
RenegadeCop XBL: KNIFE4LIFE32 - Death's Thrall
XBL: Darkfitch - Death's Thrall
XBL: NixoEdanos - Death's Thrall
LordTransvalence PS3: Transvalence - Justiciery of Death PS3
Last edited by Dutchy on Mon Mar 11, 2013 8:01 pm; edited 10 times in total