[img]
http://soulswiki.forumsrpg.com/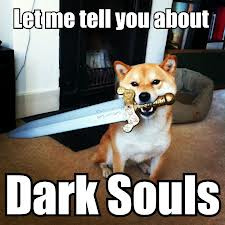 [/img]
Message me if you'd like to engage in mortal pvp in the Moonlight Butterfly Forest, Undead Burg, or The Painted World of Ariamis! (Other areas are welcomed but these are the most preferred)
Fight Clubs are welcomed with enough participates.
Rules:
-Don't backstab unless opponent leaves themselves wide open
(Does NOT mean you can backstab fish or roll backstab)
, other than that, anything flys.
-And of course no healing, unless the situation calls for it.
-Absolutely no chain backstabs
-Buffs allowed, rebuff allowed at your own risk
-Bowing is optional
-I'd like to see some unique builds other than the generic katana pryo
PSN: VaanVoid
Best Scheduled Times are Friday through Sunday.
Soul Level Required: 100-130
Alright, how about some Jolly Good Fighting??
Last edited by VaanVoid on Wed Dec 19, 2012 11:20 am; edited 24 times in total