(apologies if this has been seen before!)
I was looking through the spoils of using the DsFix texture dump feature, browsing the various
textures in the game, and came across this one: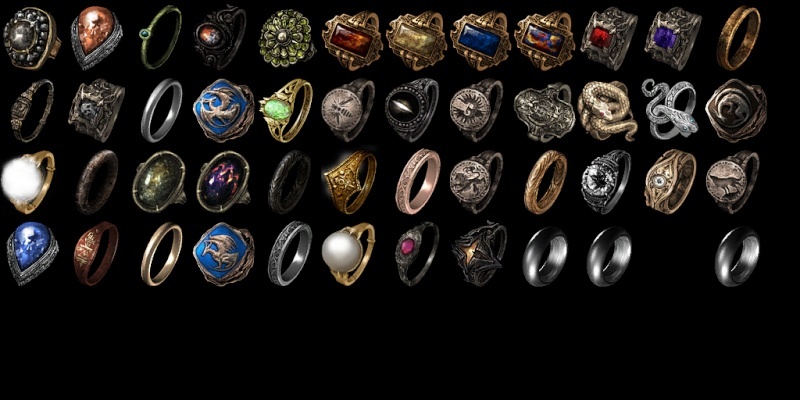 It's an image of all of the rings. Most of them are well known (The bottom row black and gold one is from AotA), but you'll notice that there are a few
extras. Three, specifically, not counting the generic-looking silver rings on the bottom right. The little blocky metal band, the black one with the big cubic zirconia, and the gold one with the eyeball. A bit of googling found this comment from NeoGAF user ixix regarding a text dump from one of the console discs
(12-08-2011, 05:48 PM):
Ring of Condemnation, Ring of Blind Ghosts, and Ring of Displacement all exist within the item strings but not the game. They've got

description text, too:

Ring of Condemnation:

Quote:


This black diamond ring is granted to those
who enter a Covenant with Velka, the Goddess
of Sin. It automatically counterattacks when
its wearer inflicts sustained damage.

Velka the Goddess of Sin is an eccentric
witch versed in various secret rites, an


It just cuts off there, mid-sentence.

Ring of Blind Ghosts:

Quote:


This ring belonged to the seal guardian
of New Londo. It prevents its wearer's
discovery by cursed ghosts.

There were once three guardians of the seal,
but two of them tired of their eternal task,
and left New Londo long ago.


I

think

this one belongs to the Ring of Displacement, but its placement in the description strings doesn't correspond perfectly to its placement in the item name strings:

Quote:


The ring of a lost miracle of New Londo.
This ring takes damage in place of its
wearer, but has a fixed chance of breaking.


Oh boy new item descriptions! I sure hope everybody is as excited as I am at the prospect of reading

even more of them.

I would assume that the black crystal one is the Ring of Condemnation, the gold one with the eye is the Ring of Blind Ghosts, and the little metal one is the Ring of Displacement.
The Ring of Condemnation and its reference to Velka's covenant is particularly interesting to me since it gives us a glimpse of what her covenant would have been before it was cut from the game / blended into the Blades of the Darkmoon. Also, it sounds like fun.
I wonder if the Ring of Blind Ghosts was supposed to drop from Ingward, or be found on the body of the third keeper somewhere (the second being the source of the crimson robes in Blighttown).
Ring of Displacement sounds pretty cool, too, though I'm sure I'd wind up breaking it on chip damage through my grass crest shield from a hollow
soldier as soon as I put it on!